High School Graduates – Into the World and Out of the House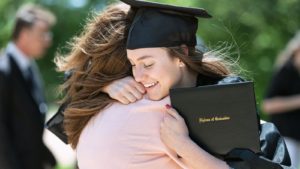 Location of Vehicle:
If your child is not taking a vehicle to school with them, and the school is more than 100 miles away, they might qualify for a discount.
Grades:
Full-time students attending college may continue to be eligible for good student discounts.
Driver Status:
Even if your child will not be taking a vehicle with them, do NOT remove him/her as a driver on your policy. By leaving them on your policy they are covered when they return home on breaks or borrow a friend's car at school. They also retain coverage if they are hit by a car while walking, bicycling, or even as a passenger in another vehicle.
Personal Property:
While the college student is away at school, a small amount of personal property will typically extend from your homeowners' or renters' policy. It's a good idea to check how much property coverage will extend and make sure that it is enough to cover the student's property at school.
Personal Property Off-Campus:
It is not uncommon for a student to rent a house or apartment off-campus. In this instance, it is not unusual for a property manager to require proof of insurance. We can provide the landlord with a form indicating that coverage will extend from the parent's policy.
Some property managers ask to be listed as an additional interest on a policy. Property managers have no shared interest in the personal property being insured and, as a result, most carriers do not allow them to be listed on the policy. However, some carriers have begun providing an option to include property managers to receive notification in the event the policy cancels while providing them no shared interest or coverage.
As your children grow and new life events occur, please keep us in the loop. Feel free to contact us at Hertvik Insurance; we look forward to hearing from you!
---
Additional Resources: