4th of July Firework Safety Tips
4th of July Firework Safety Tips
How can you keep your family, friends, children, and pets safe during the celebration?
With the fourth of July approaching, we are all planning fun ways to spend our day off. The festivities include decorations, sparklers, cookouts or watching a parade, and of course, fireworks.  Fireworks are a spectacular sight to see, but there are some precautions you should take so you don't injure yourself or others.
Sparklers
Sparkler fireworks are especially fun for children. Once children are old enough, allow them to hold a sparkler under your guidance.
Did you know even mild fireworks such as sparklers can get hot enough to burn through clothing? To prevent burn injuries, especially with small children, exercise extreme caution when lighting and holding sparklers.
Don't Purchase Illegal Fireworks
The majority of injuries sustained from fireworks result from illegal or homemade fireworks. Looking for a quick way to tell what's legal? Avoid fireworks packaged in brown paper. (That's usually an indication that those particular fireworks are made for professional displays and not intended for consumers.)
Using Fireworks Safely
If you do light off fireworks at home, remember to read and follow the manufacturer's safety instructions and warnings and only light fireworks outside in an open space.
Obey local ordinances regarding private firework usage and do not drink alcohol while lighting fireworks – they can pose a burning hazard if you are not careful.
Keep Water Close
Always have a bucket of water nearby in case of emergency. As an extra precaution, douse burned fireworks with water before discarding them.
Keep Away
Once you've lit a firework fuse, back up immediately and maintain a safe distance. What if one of your fireworks doesn't do what it's supposed to do? Douse it with water. Do not attempt to retrieve or reignite a firework device that did not light properly.
Also, never light a firework in a glass or metal container.
Protect Your Pets
Like thunderstorms or the vacuum cleaner, fireworks may frighten your family pets. To protect your pets from becoming stressed as a result of loud noises from fireworks, keep your pets away from loud noises in a place that is comfortable to them. Have them go to the bathroom before the fireworks begin to prevent accidents.
Check Your Insurance
Review your homeowner's insurance policy so you are aware of what is and isn't covered should a firework mishap occur. Every home insurance policy is different, the circumstances surrounding the incident determine what coverage is provided.
FREE 4th of July Safety Tips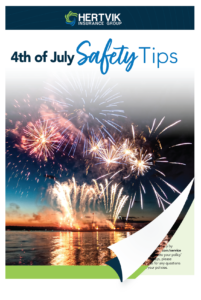 Download FREE 4th of July Fireworks Tips
Contact your Hertvik Insurance agent with any questions you have about the various ways you might be able to upgrade your policy to increase your protection for your home.
---
Additional Resources: