Why Should Real Estate Agents Partner with Hertvik Insurance Agency?
The Dilemma for Real Estate Agents
Each year, millions of people buy homes. Most know that a realtor and mortgage lender is a large portion of the process.
A little-known secret, though, is that an independent insurance agency (like Hertvik Insurance) is equally valuable in the home-buying process. We provide critical information that can help your client move faster through the home-buying experience.
As homeowners insurance is required by most mortgage lenders, this estimated cost-of-insurance figure, along with escrow payments for taxes, will need to be calculated as part of your total monthly payment to determine the affordability of the home.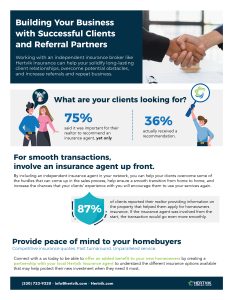 The Hertvik Insurance Solution
Timing is everything when helping your client purchase a new home. We are here to make the loan process made simple and help you get your client to closing faster, accurately, and with a competitive quote within the day.
By including an independent insurance agent in your network, you can help your clients overcome some of the hurdles that can come up in the sales process, help ensure a smooth transition from home to home, and increase the chances that your client's experience with you will encourage them to use your services again.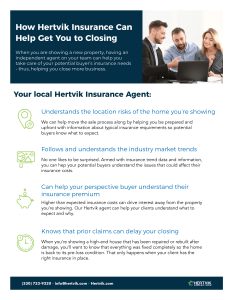 Agents & Specialized: A Mutually Beneficial Partnership
We specialize in insuring property, and you specialize in selling it. Become a partner with us and never lose another deal because of insurance requirements.