Hertvik Insurance Group Sponsors Ice Sculpture at 2023 Medina Ice Festival
Hertvik Insurance Group Sponsors Ice Sculpture and Photo Contest at 2023 Medina Ice Festival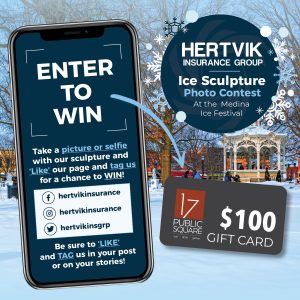 Medina, OH February 17, 2023 – Hertvik Insurance Group is excited to participate in the 29th Annual Medina Ice Festival. As new participants, Hertvik has sponsored a 'Bluey' carving for visitors to take a photo with and participate in our photo contest online. The Hertvik Insurance ice carving is one of more than 100 sponsored carvings by local businesses.
Visitors are encouraged to take a picture or selfie with the sculpture and LIKE and tag Hertvik Insurance in their post for a chance to win a $100 17 Public Square gift card. Entries are accepted until February 20, and the winner will be announced on February 21 on Hertvik's social pages.
Hertvik Insurance's headquarters is located in Medina off St. Rt. 18. "We're pleased to contribute to this year's festivities. We love being a part and supporting the local Medina community," said Jack Hertvik, President Hertvik Insurance Group.
During the four-day festival, visitors can watch carvings throughout the day while walking Medina's Uptown Square to enjoy all the beautiful ice creations.
The Ice Festival promoted by Main Street Medina includes the following:
Friday, February 17
Speed Carving Competitions from Elegant Ice Creations at 5:30, 6:00, 6:30pm, with the lighting of the Fire and Ice Tower at 7:00 pm.
Saturday & Sunday, February 18-19
On Saturday, Individual Ice Carvings Competitions will take place and the hundreds of carvings will be on display throughout the Square the entire weekend.
On Sunday, Team Ice Carving Competitions will take place.
Monday, February 20
Visitors had an entire day to stop by, walk Medina's Uptown Square and enjoy all the beautiful ice creations.
The Medina Ice Festival is admission free, and there is free parking throughout the District. For additional information, visit: http://www.mainstreetmedina.com/medina-ice-festival.html
About Hertvik Insurance Group
Hertvik Insurance Group is one of Northeast Ohio's premier independent insurance agencies.  Service Northeast Ohio in Medina, with affiliate offices in Sandusky and North Canton.