Halloween Safety Tips to Avoid Spooky Insurance Risks
As you may already be participating in the fun fall activities that we all love, such as pumpkin carving, visiting a corn maze, or drinking apple cider while apple picking, the annual appearance of skeletons, bats, and witches riding broomsticks is a sure sign that Halloween is on its way.
Contact us to make ensure you are covered for incidents during Halloween trick-or-treating fun. Incidents such as someone tripping and injuring themselves on your property. Take a few steps to prepare your home. Protect any visitors who can spare you from a truly frightening evening.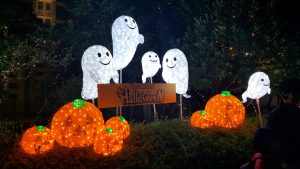 Don't Be Afraid of the Dark!
Properly light your driveway and walkway. Help prevent unwanted accidents like someone falling and scraping their knee occurring. Be sure to provide adequate lighting. Make sure all outdoor lights are on (or off if you are not passing out candy).
Walk the perimeter of your property before Halloween to identify and minimize potential dangers, especially those that are hard to see after dark. Example: roll up any outdoor extension cords or garden hoses to avoid becoming a tripping hazard.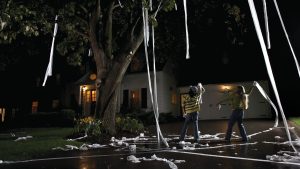 Vandalism
With the evening being a traditional night of teen pranks, Halloween can be challenging for homeowners that experience unwanted clean-up after a prank. Pranks could be large or small, like graffiti, broken windows, or car vandalism. Pranks are costly repairs that should always be reported to insurance.
Installing a home security camera or system that is directed at your front yard can help deter unwanted visitors. It and can also help the police identify the perpetrators if damage happens to your home or vehicle.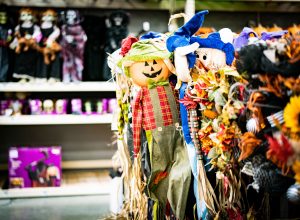 Decorate Smart
We recommend avoiding dried flowers, cornstalks, and crepe paper because they are highly flammable. If you do decide to use these items, keep them far away from open flames and heat sources, such as space heaters and light bulbs.
When plugging in your scary outdoor decorations, do not overload the electrical outlet, and use ground-fault circuit interrupters (GFCI's) to help reduce the risk of electric shock.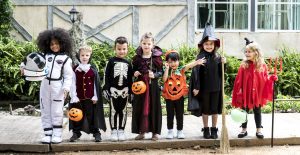 Wear Bright Colors
While it may not go with your child's Halloween costume, it's important for both them, and you, to wear clothing with reflective strips or bright colors while trick-or-treating. We also recommend carrying a flashlight or other light-up item to help in your visibility.
Don't Let the Risks Frighten You
Give yourself peace of mind and speak with a Hertvik Insurance Agent today to make sure you are properly covered.
Consider an umbrella policy to provide extra protection in case of a Halloween night accident.