What You Need to Know About Commercial Drone Insurance
With the ability to capture and record high-quality aerial shots in various locations as well as distance, using a drone for business purposes can be a tool to take your business to the next level. Insuring your drone might be a new concept, even if you already have other types of business insurance. Learning the features and coverages of a drone insurance policy is essential to being sure your business is protected.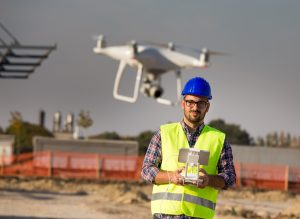 What is needed to fly a drone legally? (Drone Regulations)
With everchanging drone regulations, it's important for commercial UVA operators to understand drone regulations to ensure that they are legally flying their drones.
The FAA in 2016 finalized regulations for unmanned aerial vehicles. Per the new regulations, you must complete the following tasks to become a certified commercial drone pilot:
Pass a basic aeronautical knowledge test (followed by recurrent testing every 24 months)
Receive clearance from the Transportation Security Administration
Obtain a Remote Pilot Certificate with a small UAS rating
Be at least 16 years old
Your insurance company may also require proof that your company uses trained, experienced pilots, have created and implemented standard operating procedures (SOP), regularly use a second "spotter" to assist your pilot, and that your drone pilot is navigating within safe distances (from persons and property) recommendations.
What Drone Insurance Do You Need?
While drone insurance isn't required in the U.S. the same way car insurance is, having it can still be the smart — and right — thing to do.
To protect your business, and prevent unfortunate situations from happening, an insurance policy provides long-term protection. Even if you are a trained, registered commercial drone pilot, accidents can happen because of weather, equipment malfunctions, pilot error or factors beyond your control. For example, when you drone goes up into the air, your business could be held responsible for any third-party damages caused. These kinds of incidents can be a significant liability risk for your business.
By protecting your drone with an insurance policy, you can not only grow your business, but demonstrate to your clients that you are a responsible, operating professional that takes the service seriously. Using high-quality drone equipment, maintaining it properly, and tracking your operations can reduce your risk, but an insurance policy is still a smart investment.
What are my coverage options?
For drones, there are two types of commercial drone insurance: liability and hull. Ideally, commercial drone users should have both.
Liability Insurance
Drone liability insurance is a type of coverage meant for third-party incidents such as bodily injury or property damage, as well as what's called personal and advertising injury — which means that a third party has incurred harm besides a bodily injury.
A typical drone insurance policy will provide you $1 million in coverage. With more risks involved in a larger firm, it's not uncommon to demand higher limits of standard minimum liability.
Hull Insurance
Hull insurance is for damage to your drone itself. This can include anything from losing the drone, or labors costs to repair it. Depending on your policy and carrier, hull coverage can also include payment if your drone is stolen. Be sure to read your policy carefully if you're worried about a certain type of damage.
The hull premium, or the amount you'll have to pay out of pocket, is based on the value of the drone and its equipment, including cameras and sensors. This is calculated by using a percentage of the insured value of the drone.
When shopping for hull insurance, be sure to consider the value of the many accessories you have surely acquired for your drone, from spare propellers and batteries to additional controllers and data storage systems. Hull insurance plans will also often have deductibles, which are not nearly as common for liability coverage. We may also ask you for information about the industry you're working in, where you'll typically be flying, and the kind of training you've received.
Making Sure You're Getting the Right Coverage
It is important to ensure you're buying a policy made specifically for drones. Drones are classified by the government as a form of aircraft. Any accident arising from their use may not normally be covered by a general liability policy.
To ensure you're getting the right coverage, be sure to get your policy reviewed by your Hertvik representative before you sign anything, and make sure that it explicitly covers drones. If you do not see any reference of drone coverage, assume you will be piloting unprotected.

How Much Does Drone Insurance Cost?
Because of the diverse nature of drone use, insurance liability limits range from $1,000,000 to as much as $10 million.
Some questions to ask yourself before deciding on what drone insurance policy you need:
Are there potential risks?
What kind of coverage do my clients expect?
Is there a timeline for my work? Per project, seasonal and year-round coverage options all exist.
Do I need both liability and hull policies?
Contact Us
Contact a Hertvik Insurance agent we'll ensure your drone is properly covered!
---
Additional Resources: