Business Insurance for Pet Care Providers
Every pet care provider and business owner in the industry will tell you – pets are family too. And no one understands that better than you. You've turned your love for animals into a thriving business. Whether you're a veterinarian, dog walker, or pet sitter, we can offer you stand-alone insurance coverage that other carriers do not provide.
Who Needs Pet Care Insurance?
Any small business owner who is involved in the care or medical treatment of pets or the sale of pet-related produces. That includes:
Animal Hospitals
Veterinarians
Pet Boarding
Groomers
Sitters
Animal Trainers
Dog Walkers
Pet Supplies & Food Stores
Why is insurance needed for my pet care business?
Your business can face property and liability risks. By having the proper coverage, you can protect your business and the precious pets you care for. Furthermore, like any other small business, a pet care business must guard against the usual risks, but also unique risks. For example:
One of your employees accidentally injures a customer's dog's toenails while clipping them during a grooming session.
A new pet sitter goes to a new client's home. They are there to take care of the cats while the family is on vacation. While there, the employee steals a diamond bracelet.
Do you need insurance to board pets?
If you board dogs or other pets, you should have insurance to protect yourself if an accident or incident occurs and escalates to a lawsuit. Frequent types risks pet boarder encounter:
Injuries to your employees or customers while at your business
Injury or illness to boarded pets
Lost or stolen pets
Veterinary bills or damages claimed by the pet owner
What types of coverage do I need for my pet care business?
How do you know what coverage is right for your business's specific needs? We've compiled some guidelines below:
Business Owner's Policy (BOP)
First, consider a Business Owner's Policy (BOP). A BOP covers Property and General Liability (GL).  Whether you run a veterinary clinic, kennel, or grooming facility, property coverage includes equipment. Equipment includes supplies, tables, or x-ray machines.
A BOP's liability coverage provides comprehensive protection for claims made by other parties. Specifically, it covers losses involving injury to others or damage to property that belongs to others. For example, if a client slips and falls on a slippery floor after your employee mops up after a puppy's "accident."
Many BOPs include basic coverage for employee dishonesty. A BOP policy plays for direct loss of business personal property, money, and securities. This is due to dishonest acts committed by an employee. For example, your employee who took the diamond bracelet. Your BOP can help cover the lost property on the client's premises.
At Hertvik Insurance, we can offer the following coverages that other carriers do not provide:
Kennel Cough – provides coverage if there is suspicion that a kennel cough infection was spread throughout a pet care operation. This includes reimbursement to clean and disinfect the facility, equipment, and tools, pay for loss of business income. It also includes reimbursement of veterinarian expenses, should other animals need to be treated.
Pet Care Professional Liability – when property damages arise after failure to render professional services such as pet grooming/washing, daycare, walking, funeral, and more.
Pet Care Errors & Omissions – protects the pet care facility, their workers, and other pet care professionals against claims of inadequate work or negligent actions.
Animal Infectious Disease Coverage – protection for your business if you are forced to temporarily close due to suspicion of an animal infection disease. Includes reimbursement for veterinarian expenses paid to your customers to get the necessary tests and treatment for animals that were in your care that are exhibiting symptoms of infectious disease.
Animal Bailee – A bailee is any person or business that assumes care, custody, or control of the personal property of another. To protect your business from injury or death to these animals, consider purchasing animal bailee coverage.
Additional coverage for your pet care business
Commercial Auto Coverage – you may have more than one vehicle, such as a mobile grooming vehicles or company van.
Employee Workers Compensation – If your employees does a lot of heavy lifting, whether they're carrying Bernese Mountain dogs or large litter boxes, you may be required to provide workers compensation coverage.
Cyber Liability – pet parents trust you with their personal information, so consider cyber liability insurance.
Umbrella Insurance – a commercial umbrella policy can offer additional coverage and protection above and beyond your other policies. For example, with an additional umbrella policy, you'll have up to an additional $10 million in liability coverage.
Contact us today with any questions you have about the various ways you might be able to protect your pet care business.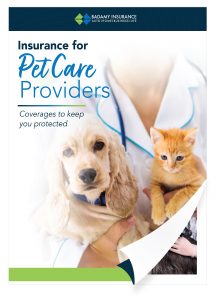 FREE Pet Care Providers Insurance Guide
Download FREE Insurance Guide for Pet Care Providers